4. Parameters for change
4.1. Introduction (Figures 110 - 111)
4.1.1. This chapter of the SPD provides planning and design guidance on how the development principles will be used to guide future planning application(s). In some cases the guidance is more prescriptive, and this is reflected in the language with words such as will and should. In other cases the guidance is more discretionary and illustrative, providing a vision and aspirations for future development.
4.1.2. As well as complying with the planning and design guidance in this SPD, any future planning application(s) will have to comply with the policies in the Cambridge Local Plan 2014. A list of relevant policies is provided in Appendix B.
(1)4.1.3. This chapter is structured under six themes:
Land use
Transport and access
Building heights and types
Open space
Character and form
Sustainability
4.1.4. The themes have been used to create a Framework Plan (please see figure 111), which broadly illustrates how the routes, buildings and open space should work together. The remainder of this chapter illustrates how the Framework Plan has been built-up and provides guidance on each of the six themes.
(2)

Figure 111: Framework Plan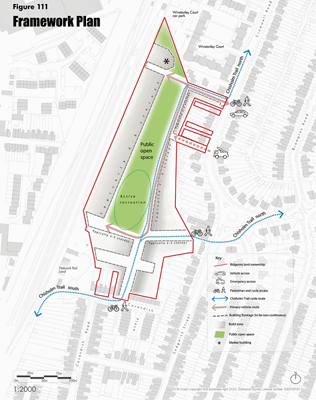 4.2.Land use (Figures 112 - 113)
(4)4.2.1. In line with the site allocation, the primary land use will be housing. The policy requirement for affordable housing is 40%. Affordable housing should be distributed in clusters across the site.
(6)4.2.2. Discussions have been held with the NHS and Cambridgeshire County Council about the provision of medical practices, school and nursery places in the locality. This was in response to public consultation feedback as part of the preparation for the SPD. The discussions highlighted the potential need for a medical practice, an early year's nursery and community floor space to be provided on site, however at the time of writing the need for these land uses has not been confirmed by the NHS and Cambridgeshire County Council.
(4)4.2.3. Given a planning application could precede the NHS and Cambridgeshire County Council confirming a need or otherwise, it is suggested that floor space could be reserved for an agreed period of time for the medical centre, early year's nursery and/or community use. If in the future there is no need identified for the land uses, the reserved floor space could revert to housing.
(2)4.2.4. Any planning application on the Ridgeons site will need to be informed by an appropriate assessment of demand and capacity. The assessment should be in line with Policy 73: Community, sports and leisure facilities in the emerging Local Plan. If required, a medical centre, early year's nursery and /or community use would need to be provided in a location which is reasonably central, with adequate provision for parking, and in the case of the nursery, near an open space.
4.3. Transport and access Pedestrian and cycle connectivity and principles (Figures 114 - 128)
(1)

Figure 114-117: Transport principles

(3)

Figure 123: Access and movement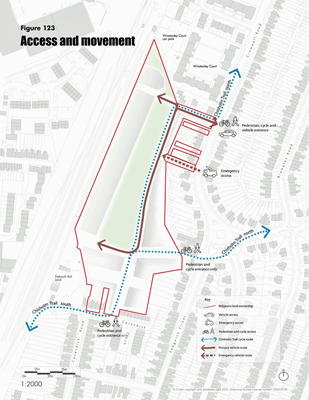 (7)4.3.1. The Ridgeons site offers an excellent opportunity to open-up a currently closed site and make connections with the wider existing street network and future Chisholm Cycle Trail. As such, access and routes through the site will be provided for pedestrians and cyclists.
(4)4.3.2. To accommodate the Chisholm Trail and to aid pedestrian connectivity, cycle and pedestrian access to the site should be provided on Cavendish Place, on the track behind the shops on the mini roundabout on Cromwell Road and adjacent to the green space linking through to Cromwell Road further north.
(3)4.3.3. The new streets within the development should accommodate, where possible, generous pavements and shared surfaces to encourage cycling and pedestrian activity, and slowing down vehicle speed.
(4)

4.3.4. Vehicle access, routes and hierarchy
Vehicle access to the site should continue to be through the existing Ridgeons site entrance on Cromwell Road. However, given the width of the entrance, it is suggested that the entrance road is narrowed. This will be the only vehicle entrance into the site and will also serve pedestrians and cyclists.
(4)4.3.5. The existing, currently closed, vehicle access route to the south of the main entrance should be retained as an emergency vehicle access route. There is the possibility this could also be used for a pedestrian and cycle access.
(4)4.3.6. There should be a hierarchy of vehicle routes through the site, with a primary street serving the spine of the development to the east of the public open space. All secondary routes should be shared surfaces where possible. Shared surfaces are streets where kerbs and traffic signs are reduced to help create equal priority between pedestrians, cyclists and vehicles.
(11)

4.3.7. Car Parking
Cambridge City Council's car parking standards are expressed as maximum standards in line with national guidance and the City Council's sustainability aims. However, there could be justification for car parking provision below the maximum policy levels given the close proximity of the site to public transport, shops and services. It is suggested that a car parking ratio of 1:1 for each home (i.e. one space per home) with an additional visitor parking space of 0.25 (i.e. one parking space per four homes) could be acceptable. Any parking allocation will need to be justified in future planning application(s).
(2)4.3.8. Car parking should be provided in a variety of typologies, including parallel on-street bays, perpendicular (head on) bays, on-plot, parking courts and undercroft. The potential for the use of car clubs within the development as a whole should also be investigated early in the development process.
4.3.9. Car parking for disabled people should be provided in line with Cambridge City Council's standards in suitable locations to allow easy and level access to buildings and spaces.
(2)

Figure 118-121: Car parking types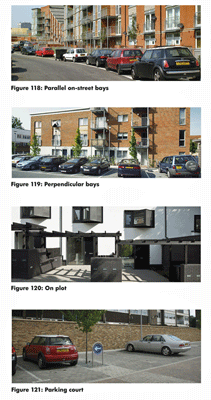 (2)

4.3.10. Cycle parking
Safe and secure cycle parking should be provided and should accord with Cambridge City Council's policy requirements.
(2)

4.3.11. Indicative Street typologies
Variety should be brought into the public realm through a carefully designed approach to street types. All streets should have a clear distinction between public and private space and a hierarchy of street widths.
4.3.12. The four street types (figures 125-128) illustrate indicative street typologies that could be developed at planning application stage.
(6)

Figure 124-128: Street typologies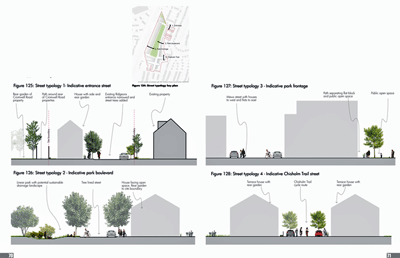 4.4.Open Space (Figures 129 - 135)
(7)

Figure 129-132: Open Space and Open Space character areas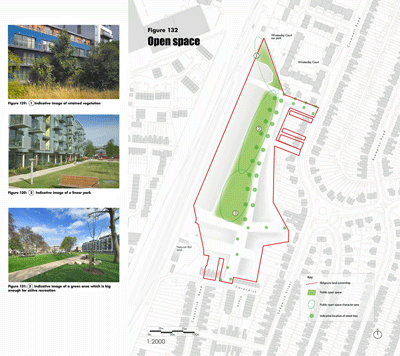 (2)4.4.1. Public open space should be provided on the Ridgeons site. Through consultation, local people said that the open space should be welcoming and be capable of fulfilling a range of activities for different age groups. These activities include: children's play (for a range of ages), informal ball games, picnics, places to rest and community events.
4.4.2. An open space should be provided in the heart of the new development, allowing views and accessibility for new and existing residents.
(1)4.4.3. Street trees should be provided on the primary street to the east of the open space. Street trees could also be used to pick-out key routes, such as the Chisholm Trail and Cromwell Road entrance.
(1) 4.4.4. Sustainable urban drainage (SUDs) landscape features will be required in the open space. More details can be found in 4.7 - Sustainability.
(3)

4.4.5. Open space character areas
Retained vegetation. A more wild and planted public space in the north of the site which retains the existing vegetation and also has the potential for sustainable drainage.
Linear park. A long green space, with children's play, planting and the potential for landscape features for sustainable drainage.
Green area, big enough for active recreation, children's play, sitting and enjoying.
(1)

4.4.6. Children's play space
Children's play space for a range of ages should be provided throughout the development. It is likely that several Local Areas for Play (LAPs) will be included on the site and one locally equipped/landscaped area for play (LEAP). Allotments and opportunities for communal growing could be provided on the site, depending on local demand.
(2)

4.4.7. Outdoor sports pitches
Outdoor sports pitches do not have to be provided on the site given the size of the site and the provision of three sports pitches at Romsey Recreation Ground and eleven sports pitches at Coldham's Common. Commuted sums for off site provision or improvements in lieu of on site provision will be sought.
(1)

4.4.8. Shadow studies
All proposals for the site should use shadow studies at different times of the day and year to demonstrate that the public open space receives a reasonable amount of sunlight.
4.5. Building heights and types (Figure 135)
(3)

Figure 135: Building heights and types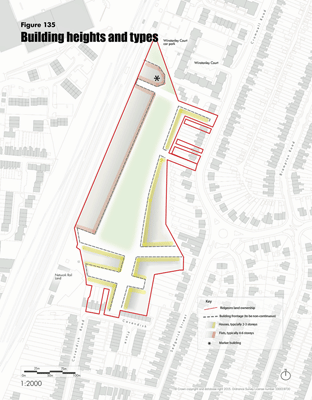 4.5.1. Building and housing types
A range of building and housing types should be provided across the site in a mixture of houses and flats. This range of typologies will help create an integrated community, with homes suitable for singles, couples, families, empty nesters and older people.
(1)4.5.2. All new homes should optimise solar orientation and outlook, while also providing a robust street and block layout. Dual aspect homes should be maximised and single aspect north facing homes avoided.
4.5.3. New homes should generally be set-back from the street, with small front gardens or privacy strips. Where possible, ground floor properties should have rear gardens or patios and flats should have a balcony or terrace.
(2)

4.5.4. Building heights
A range of building heights should be provided across the site. This will help create visual interest and character within the development, while also allowing a contextual response to the character in the surrounding streets.
(1)4.5.5. Generally, houses of 2-3 storeys should be located nearer the south and east of the site, which is closer to the boundaries with existing properties and the Mill Road Conservation Area. It is suggested that these properties should generally be laid out on streets similar in width to those in the conservation area.
(2)4.5.6. Flats in taller blocks (typically 4-6 storeys) should be located to the north and west of the site, away from existing properties and the conservation area. While this area is designated for taller flat blocks, there could also be the potential for lower rise houses to be mixed in. There is the opportunity for a marker building in the northern most part of the site.
(1)

4.5.7. Boundaries
All new buildings should respect the amenity of surrounding existing properties and maintain a reasonable back-to-back distance between directly facing windows of habitable rooms in existing surrounding properties. Existing vegetation within the boundary should be retained where possible.
4.6. Character and form (Figure 136)
(1)

Figure 136: Indicative character and form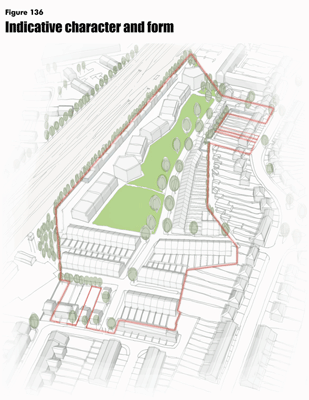 (2)4.6.1. The street and block layout for the Ridgeons site should be legible and respond to the surrounding area. New streets and blocks should be stitched into the existing urban fabric. Buildings should be orientated to overlook public spaces and streets, with layouts planned to follow the principles of Secure By Design.
(1)

4.6.2. Character areas
The character in the south of the site should reflect the character of the adjacent Mill Road Conservation Area. Typically, this should be 2-3 storey houses, with rear gardens, set out on a grid of streets.
(2) 4.6.3. The character of the rest of the site should be based around a new accessible public open space. The open space should be large enough for active recreation and be welcoming for all of the community.
(4)4.6.4. The buildings to the west of the open space should typically be 4-6 storey flat blocks, with the potential for houses to be mixed in. The northern most part of the site has the potential for a marker building.
(1)4.6.5. The buildings to the east of the open space should typically be 2-3 storey houses with rear gardens. Street trees should be considered for the entrance to the site from Cromwell Road and on the east side of the open space.
4.7. Sustainability (Figures 137 - 142)
(5)

4.7.1. Site-wide sustainability
Creating a sustainable development should be a priority underpinning the redevelopment of the Ridgeons site. A site wide approach should be employed to address environmental, social and economic issues. Development should comply with the Cambridge Sustainable Design and Construction SPD and propose strategies for the following relevant issues:
Health and well-being of future residents
Energy efficiency of new buildings
Design for climate change
Water use
Flood mitigation - SUDs
Use of materials and resources
Waste and recycling
Employment opportunities
Pollution
Transport and mobility
4.7.2. Specific strategies that could be considered for the site include:
Mitigation of overheating in flats and taking measures to improve internal thermal comfort.
Water sensitive urban design such as sustainable drainage features like swales, rain gardens, ponds and rills could be designed into the open space and landscape.
4.7.3. Other sections of this document are also relevant to the wider agenda of sustainability.
(4)

4.7.4. Ecology
There are many opportunities for enhancing the ecology and biodiversity of the site which currently has a very low ecological value. Initiatives should be developed in the context of wider plans for improvements to ecology and biodiversity.
Initiatives that could be considered are:
Tree and other planting where appropriate
Water resources in association with SUDs and landscape features where possible
Nesting opportunities for a variety of bird and bat species
Habitats for insects
(2)4.7.5. Flat and low pitched roofs could provide an opportunity to improve the ecology of the site and contribute to the general increase in biodiversity. Both green and brown roofs with local species of flora might be desirable. The installation of photovoltaics over green roofs is also possible as the shade will add variety to the environmental conditions.
(2)4.7.6. Opportunities for the creation of green walls comprising climbing plants could be explored in north and east facing walls to provide nectar sources for invertebrates and cover and night roosting sites for birds. Initiatives that link the provision of ecological enhancements with the public art strategy could also be explored.
4.8. Planning Obligations
(2)4.8.1. The development is likely to result in increased demands for community infrastructure such as public open space, sports, health and community facilities and additional school and nursery places. Some of these demands will be met on site and others via commuted sums to provide new or enhanced infrastructure off site. It is also possible that in addition to the provision of the Chisholm Trail through the site, other transport improvements will be needed off site. Waste and Recycling facilities may also need to be secured. Planning Obligations via a Section 106 agreement will be needed to deliver this infrastructure. The full list and scope of these Planning Obligations will be defined through the consideration of the planning application(s).
If you are having trouble using the system, please try our
help guide
.
back to top
back to top